CAMPUS Activities

School has many campus activites to make the students active and smart in all the fields and achieve success in thier career and life.
Clubs
School has around 17 clubs that are managed very professionaly to make students prepare for thier future.Read More +
NCC
The NCC troop of the school is the oldest of its kind in Kottayam District. It started functioning in the year 1952. All these years it has been maintaining a very high standard of efficiency. Many of our cadets have attended Republic day parades and other leadership camps held in national level.100 students are enrolled in NCC. Students in standard VIII & IX are eligible for enrollment. Besides giving physical training, the cadets are given special training in shooting practice, weapon training & first aid.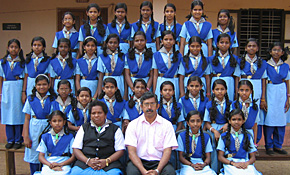 SCOUT & GUIDES & Junior Red Cross
About 20 boys & 20 girls are given training in Scouts & Guides respectively
LIBRARY
The old concept of the libraries was to develop among the students the reading habit. It is true that our library contains a lot of story books and precious poem collections, novels and old literature. But modern reference books are not available in our library. These are to be provided urgently so that the students can refer to them & improve their educational standard.
The present teaching system necessitates a lot of new reference books in the library. The school looks forward help from the old students and well wishers to provide reference books as needed.
SPORTS
Games that are played on school sports days can be wide and varied. Games like- Running, Relay, Shotput, Javelin throw, Basket Ball, Longer races for all age groups as well as lemon and spoon races.
SOCIAL SERVICE
The Social Service League of the school was started in the year 1965. Its main aim was to provide noon-meal during school days to students with very poor living conditions. The amount for the same was raised from their collegues only. This noble act of theirs created an awareness among the students regarding their responsibilities towards their fellow beings.
Besides the noon feeding programme, the social service league provides financial & material assistance to the poor students in the school.
YOUTH FESTIVAL
Its an annual event conducted by the school, featuring several arts competitions for high school and higher secondary school students. The participants are the students from all the classes of the School. Champions will be send to participate in district level competitions and the winners to National levels.